Hydrogen filling stations
Hydrogen filling stations are a contribution of APT to efforts to reduce emissions in transport. Our work and our own technological equipment are marked with a special company brand,
which is a unique guarantee of respecting environmental principles both in the manufacture of technological equipment and in the practical use of equipment. Technologically, the hydrogen filling stations build by APT are based on many years of experience in the field of high-pressure hydrogen filling for the purpose of its transport, both in trailers and in transportable cylinders. Although the development of hydrogen mobility in the Czech Republic is in its infancy, APT has designed and implemented three hydrogen filling stations. The gained experience made it possible to develop a certified methodology for the construction and operation of hydrogen filling stations, which subsequently became the basis for the technical rule TPG 304 03. This has laid a basis for standard design procedures and subsequent approval processes In Czech Republic.
Filling station in Neratovice has been in operation since 1999
and the filling station in ÚJV Řež near Prague – since 2020.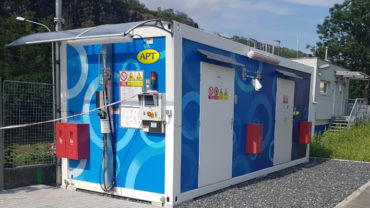 and on June 28, 2022, together with company VÍTKOVICE, a.s. we have commissioned the first public hydrogen filling station in the Czech Republic, which is located at the entrance to the Cylinders Holding production facility in Ostrava.
APT also supports the development of hydrogen mobility in cooperation with other companies, such as:
For the purposes of development of science and technology, a various studies with a technological and economical focus on the hydrogen filling stations construction, including hydrogen sources (green, blue) have been carried out.
APT offers many years of experience for the processing of studies and projects, own construction according to specified parameters, commissioning and following service.
Interested?